THE DYNAKIT STEREO 70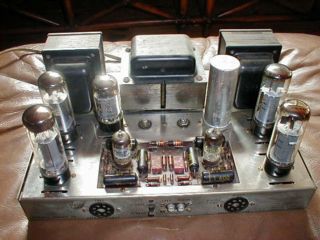 There was a generation where every middle-class American living room had a stereo system and the usual power amplifier of that system was a Dynakit Stereo 70 (ST-70). If the owner had some electrical experience, then it was purchased in kit form, soldered, and assembled by the owner. But Dynaco was nice enough to sell it fully assembled for those less nimble with a soldering iron and a screwdriver. I recall the kit price being about $100 in 1960.
In 1977, when I was in college, I bought my own ST-70 for $30. (I also drove a Volkswagon beetle for ten years and listen to the original Quad ElectroStatic Loudspeakers.)
The ST-70 had a pair of EL34 tubes as its final output stage with a maximum power capacity of 35 watts into each of its two channels. A more realistic rating would be 20 watts. The output transformer had speaker connections for four, eight, and sixteen ohms.
This was a fine sounding amplifier. As of 1980, it was clearly better sounding than the wave of mid-fi receivers from Pioneer, Kenwood, Onkyo, Sherwood, and Yamaha and just as clearly not as good as the wave of entry high-end amplifiers from Bryston, Great American Sound, Hafler, and Holman. For me it was a wonderful bridge from college-hifi-receiver sound to high-end audio. A friend of mine has my old ST-70 and plans to revive it to its former glory. He is busy and it may take a while, perhaps a long while, but I still want to hear my old friend again.
But here's the funny part. Amid the tube-amp revival of post-modern high-end audio, the Dynakit Stereo 70 has a cult following. The amp I bought for $30 in 1977 would sell for many hundreds of dollars in 1997 and there are versions with minor modifications fetching over $1000.
I have my own theory about this. The current wave of post-modern high-end audio amplifiers is designed by tube-weenies who are not really audio engineers. These amplifiers have glowing reviews because they have glowing tubes and the sound is a euphonic, colored mockery of what a good amplifier sounds like. The ST-70 is a good amplifier and, wonder of wonders, it's a good tube amplifier. In fact, it sounds a whole lot better than most of the stuff being peddled for many thousands of dollars in hifi shops today.
One reviewer for Listener magazine made a direct comparison between today's expensive and revered tube technology and a Dynakit Stereo 70 and found that the ST-70 sounded better. My conclusion is simply that the ST-70 represents the middle-value of an age with higher standards. His conclusion was that the ST-70 was some kind of secret, a spectacularly wonderful amplifier in an ugly box.
MY FIRST COMPACT DISK EXPERIENCE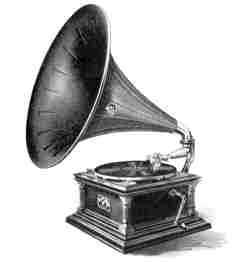 I remember my first time hearing a compact disk in 1987. The store owner, let's call him John, was so proud of this new technology. "This is the second generation of Sony's compact disk. The bugs have been worked out; it 's finally been perfected." The system was a nice rig, about U.S. $12,000 worth of TNT electronics and Acoustat speakers. If the Acoustats were a little bright and the TNTs were a little punchy, their sins were minor and well known to my ears. There were advertisements from Linn showing a compact disk with words like NO HISS, NO RUMBLE, NO CLICKS AND POPS, NO MUSIC, but they were in the turntable business so you figure they're going to have something negative to say about a new technology competing with their flagship product.

John beamed with pride and pressed the button and nothing could have prepared me for how awful this sounded. It was mechanical and wooden in the worst way. Except for a clean bottom end, the sound was just plain bad. What could John have been thinking?

The next day one of my mother's friends, let's call him Irving, played his pride-and-joy records in his basement, original shellac recordings of opera tenors Enrico Caruso and Beniamino Gigli. He had an original RCA Victrola with a huge horn, at least a meter in length. It was wound with a crank and he took tender, loving care of this wonderful old machine. He played me some older Edison cylinder recordings as well, but Caruso and Gigli were the musical high point of the evening.

What about the sound? Clearly a steel needle grinding into a shellac groove with no signal amplification is not going to be audiophile quality, but the sound was surprisingly musical. (As an aside, isn't it a bit amazing that a diamond grinding into soft vinyl produces sound of audiophile quality?) It evoked a wide range of emotion, and, after all, that is the point of music, is it not? While the background orchestras were not terribly well represented, the voices had a wonderful reality about them.

The most amazing thing about my introduction to these two technologies from two different generations was how much better the old Victrola sounded than the new compact disk. You have to wonder if any of the folks at Sony actually listened to their product.

I have to admit that compact disk technology has come a very long way since then. Elaborate signal processing has restored much of the music to the compact disk medium. But the compact disk still lacks the resolution of musical subtlety that vinyl records and reel to reel tapes offer.

RESNET

This was the Great Big Attempt to bring menu-based interaction to airline reservations. The Information Services (IS) people were proud that they had accomplished something difficult, and I suppose they had. But, like the Apple MacIntosh computer, maybe it was something that did not need doing in the first place.

I walked into the RESNET demonstration room and sitting at a terminal was a reservation agent, a fifteen-year veteran of command-line reservations, let's call her Mary. And there was the IS manager proudly showing off his group's work, let's call him Albert. At the request of onlookers, Mary was booking and canceling reservations on fictitious flights created for the demonstrations.

The RESNET agent had a four-by-four array of buttons to respond to the four-by-four array of choices on the screen. So I walked up to Mary and said, "I have 150,000 lira in my pocket. Could you please tell me how many Deutschmarks I can get for them?" (This was before the Euro.) Mary started going through the RESNET menus. She went through more menus and more menus and yet more menues. I could see her frustration rising as she could not find any indication of how one would do a currency conversion in RESNET. I waited until she was about to explode and said, "It's the 4C command."

That was enough to push Mary over the edge. She banged both fists on the table and screamed, "I know that goddammit. I can't find it on the fucking menus." Albert came running over, no longer smiling, and said that this system was only for domestic flights.

"Fine," I said. "I would like to buy two round-trip, first-class tickets from Boston to Seattle. Oh, by the way, I have 150,000 lira in my pocket. Could you please tell me how many Deutschmarks I can get for them?" Domestic travelers still convert currency. Then I turned directly to Albert and, less cheerfully, I said, "You had to have a back-door, command-line interface to test and debug this software, a command-line interface that would let Mary here use the commands she already knows to provide the services she needs to provide. Why did you take it out?"

Albert had a pat answer to my question. "If we left the command-line option in the system, the agents might regress and use it." Regress? They might regress? The reason to take out the command-line option is so there would be no way to compare the two interfaces in the live reservations environment. As awful as single-line commands look to a novice checking flights from New York to Florida, it is a lot faster to type something like avjfkmia22dec4p than it is to walk through a series of user-friendly menus. (And realize that those menus are a lot faster than a point-and-shoot interface where extra time is needed for mouse-screen coordination.) At some level, Albert knew exactly what would happen if he gave reservations agents a choice between fast command lines and slow RESNET menus.